ENAM in the Neacolas, Alaska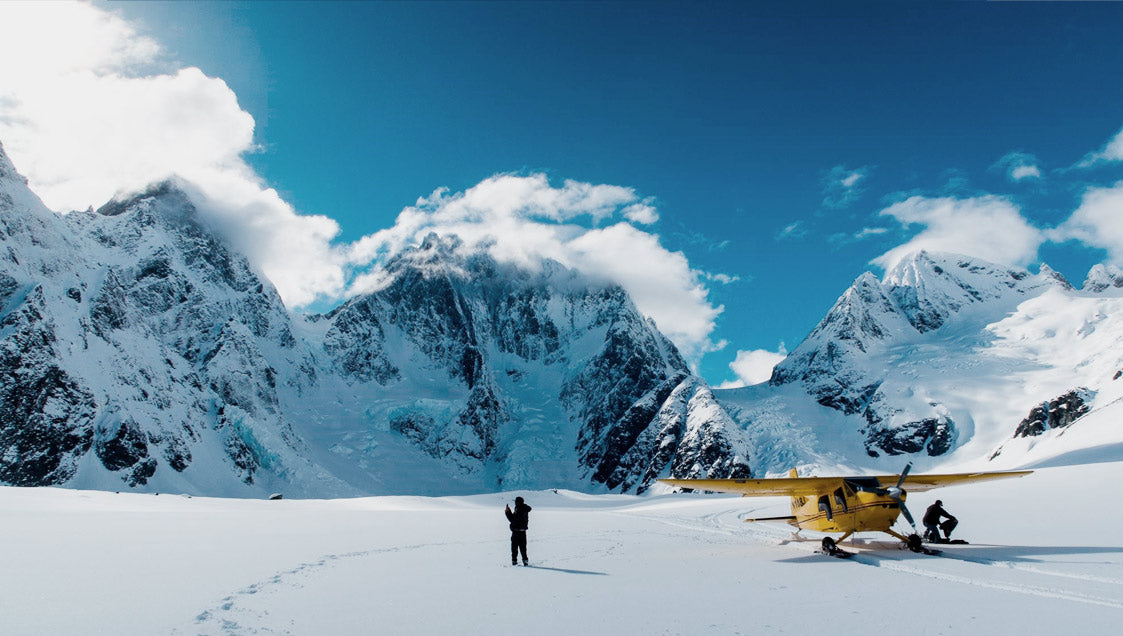 First steps in Pitchfork glacier middle branch, our home for 3 weeks.
8 planes, 2 cars, 5 tents, 7 guys but only 6 base camp mattress, 14 ice axes, 128 eggs, 5 meters of snow, 15 days of bad weather and 0 summit.
The ENAM, which stands for Equipe Nationale D'Alpinisme Masculine in France, is a group of 6 young people gathered for 3 years and supervised by 2 confirmed alpinists. Its goal is to bring its members to other forms of mountaineering, and maybe for some of them, to high performance.
The final goal of this team is to go on an expedition, organized by the members of the team. We had decided to go to The Neacolas, an Alaskan region at the top north of the Aleutian Range, and more precisely to set a base camp on the middle branch of the Pitchfork glacier. On this glacier we had two main objectives, unclimbed peaks 8505 and 8908 with great faces. But we expected other objectives to be possible and couldn't wait to get to the glacier to figure it out by ourselves.
As always in an expedition, everything didn't go as planned.

The Team ! Left to right : Antoine, Joseph, Raphaël, Charles, Etienne, Symon, Mathieu
 
We landed to Anchorage on the 12th of May and rented two cars to fit the five of us who had been able to come: Charles, Joseph, Raphaël, Symon and Etienne, plus our two leaders: Mathieu Maynadier and Antoine Pêcher.
We went right to the mall and went out with not less than 8 shopping carts, which were stuffed into the cars.
 
Our take off point was in Kenai, a 3 hours ride from Anchorage. The good weather in Alaska allowed us to take the plane right away and we arrived on the glacier on the 14th of May.
 
Half a day was enough for us to put up the camp and we soon got off to explore our valley and try to get closer to the peaks. As we were each projecting into the possible lines, one thing was certain: the face we had planned to climb was guarded by huge seracs which would involve commitment to access the routes.
We now had to make plans for the day after, announced to be sunny before some bad weather comes. Two teams emerged: the first one composed of Antoine, Joseph and Charles, was interested to go ski touring in another valley in order to, maybe, discover some other objectives. The other one, with Mathieu, Symon, Raphaël and Etienne decided to give a shot to a nice line of gullies next to the camp on a secondary objective. The idea was to see how the conditions were and what the rock was like. We were hungry!

The camp

The next morning we left the camp, approached our route and started climbing the 1000 m face we had planned. Compact rock and neve snow led to poor protections, which slowed us down. In the afternoon snow starting to fall and we decided to go back, at what we thought was the last technical pitch of the climb. We went down to the camp and to our teammates to share our stories.
 
Several days of bad weather went while we were still hoping we could climb our objectives. As soon as there was an opening, we would take off for a day of ski touring to prepare the climbs or to discover new objectives.
After a week though, we started seeing less and less blue sky days, and so was our meteorologist back in France. It was not easy since an ascent would have needed at least 3 days of good weather: one to two days for the mountains to clear from the snow, and the rest for a climb.
A regular ski touring day, our two objectives standing behind us

After having learned from our meteorologist that we were in one of the biggest storms in Alaska for several years, it became obvious that getting these three days was nearly impossible. We started losing hope for a climb, but good vibes didn't leave us and we kept on living the day-to-day camp life : waking up, shovel off the snow from the tent, go to the mess tent, make bacon, talk, eat again, talk again, go back to the tent, shovel off again, watch movies/listen to music/read books, go back again, eat, talk and go to sleep.
 
Classical relax day on Neacolas beach
 
Soon the decision was made to call for the plane to come and get us, we were afraid we would not be able to get back in time to get our plane to Europe if we stayed stuck in this storm, and we had only 5 days left of food.

For three days, we packed the camp every morning and unpacked every evening, hoping that the plane company could reach us, but they couldn't pass the bad weather barrier. Pressure was slightly growing up.
On the last day, our meteorologist informed us of a window in the morning, it was the last one before 4 or 5 bad days. We told the plane company who had seen it coming to and who this time was able to come and get us.
Symon climbing the first pitch of the only route we could attempt. (left)
Waiting makes me hungry. (right)

And that's how our adventure ended, not a lot of climbing, but quite a lot of eating, waiting, shoveling, but mainly talking, laughing, sharing… All in all a good trip :)
Etienne Journet, ENAM 2018
Comments will be approved before showing up.